The people want good clean diesel fun.
Or in other words, lean, mean, cleaner burning machines. The Volkswagen TDI engine is cleaner than conventional diesels, emitting 95% less soot as well as a reduction in oxides of nitrogen and sulfur. It's powerful, with the kind of low-end torque that racers and tuners demand. It's efficient, using a turbocharger and smart exhaust design to burn fuel more effectively. So much so, in fact, that Volkswagen expects to be the first automaker to make clean diesel cars that are certified in all 50 states. And best of all, it will help save you money with out-of-this-world fuel economy.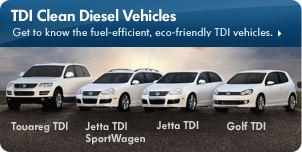 Browse all the new TDI vehicles that are currently in inventory at Fletcher Jones Volkswagen. You, too, can have good clean diesel fun here in Chicago!