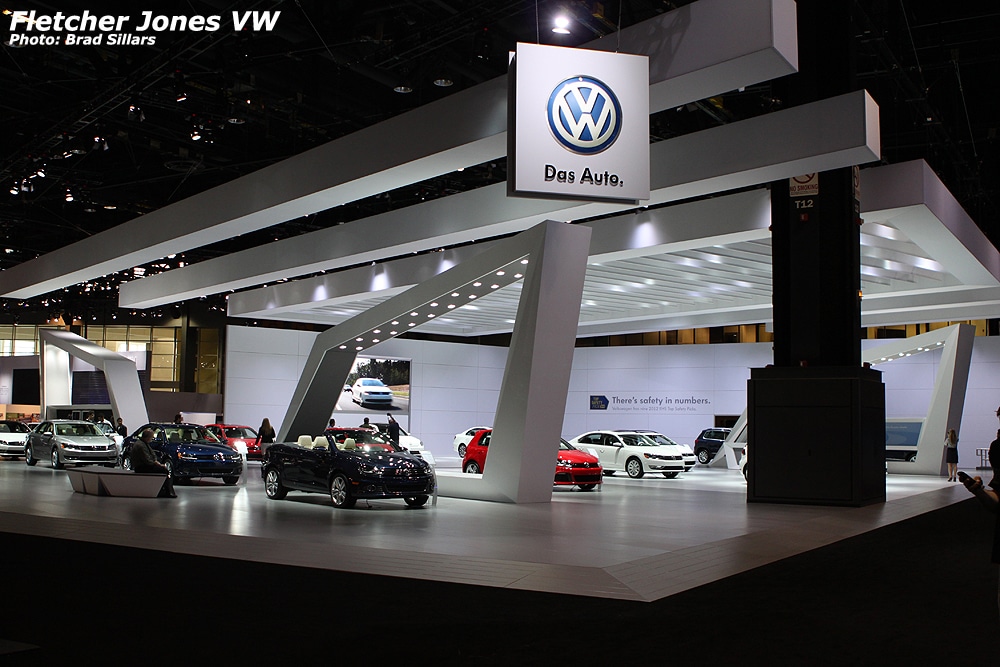 I cycled in and arrived first at the wrong entrance to McCormick Place. "Am I at the right place for the auto show?" I asked a security guard. He looked me over an asked "do you have a delivery" as he scanned my bike helmet and messenger bag. Nope, "I have a press pass" I grinned. He was nice enough to look past my appearance and direct me to the main convention space. Once inside I will admit I felt a bit under-dressed. It was two days before the public opening of the largest auto show in the world and I was there on a mission!
There were a few important new vehicles that I was hoping to see, and I saw all but one.
First off, the Beetle eBugster. We all waited a year for the reintroduction of the perennial Beetle. The wait was worth it and the new model has been a resounding success, but now with without such a model available - even in the depths of the winter - we're all still wondering "WHERE'S OUR DROP-TOP?!" Well? I don't know. VW did not see it fit to grace us with the super-concept 'eBugster' chop-top convertible, or even the expected standard fare rag-top model. All that said, I can say with some authority that an open-air Beetle is on the way as a 2013 model? release date? Well, I guess you'll have to ask me J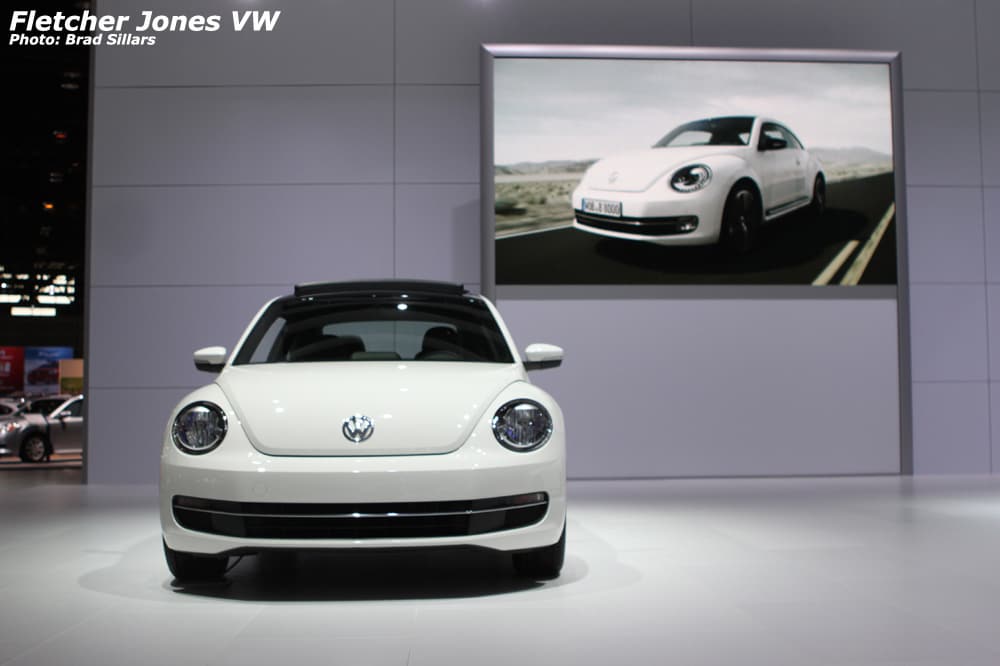 Now on to the cool stuff I did see. As long as we're talking about the Bug, let's talk about the coolest Beetle since sliced 40+ mpg bread. That's right, the Beetle TDI. This little beauty takes advantage of the same common-rail-injected 140hp/236tq turbocharged workhorse that's been made a star in the Jetta Sedan and SportWagon as well as the Golf and all new 2012 Passat. This motor does it all. It's almost perfect with acceleration and driving feel like a real car - not like the hybrids we've seen to date. Now, the all new Beetle can have the miserly fuel economy of the peoples' cars from the days of yore and also the elegant and entertaining quality of the modern peoples' car - the modern VW is luxurious, yet approachable.The Beetle TDI proves that fun, sportiness, fuel economy, style and heritage can all come neatly wrapped in an affordable package. Long live the peoples' car!!!
So, what's next? Well, I'd better address the concept of the hybrid which I just attacked because VW is jumping on (or maybe reinventing) the bandwagon. That's right; VW will soon have two high mileage drivetrain choices available to the American public. Drumroll please? INTRODUCING THE ALL-NEW VOLKSWAGEN JETTA HYBRID! A hardcore VW enthusiast might have to ask: is VW pandering to an American public that doesn't know what diesel is? Answer? Maybe? yeah, sure? what of it? Let's be honest. Hardcore European car lovers probably won't go for a Hybrid. It might be because they believe that hybrid technology is over-engineered and not worth an extra investment when we have a tried and true formula. They certainly realize that modern diesel technology is among the cleanest of fuel systems in the automotive marketplace. So what does VW say? Yes, enthusiasts, you are correct.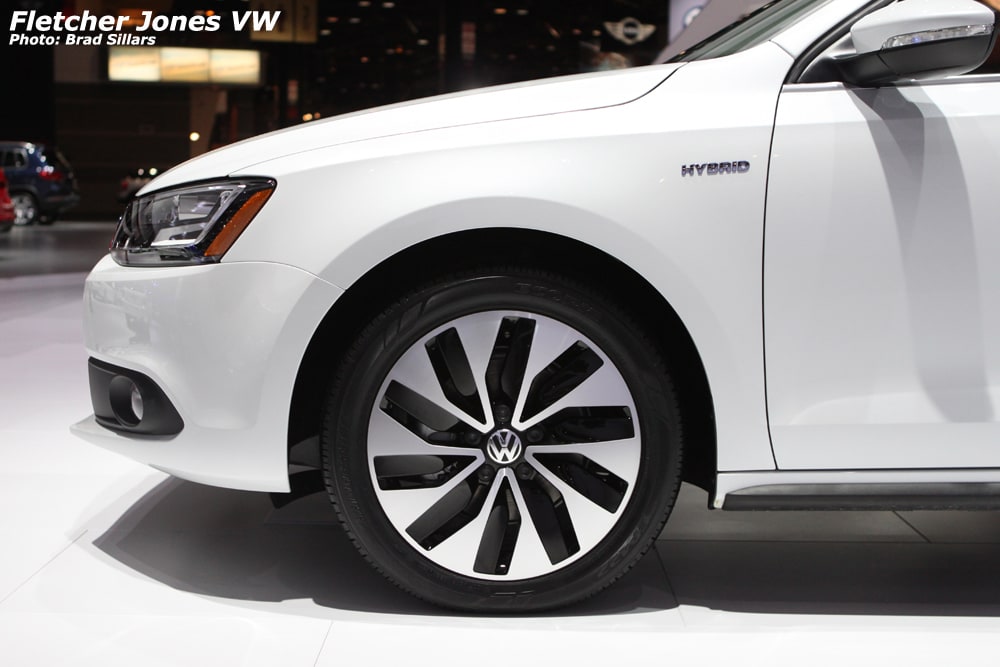 But Volkswagen has decided something else. Remember that Volkswagen AG aims to be the top automaker in the world by 2018 and this means appealing to more than just their traditional fans. For a long time salespeople at Volkswagen dealerships have tried to advise customers who were not accustomed to modern diesel cars that the TDI models are great alternatives to hybrids offered by our competitors. This is often a hard fought battle because of the negative connotations carried over from the diesels of the past. Now, let's envision a fantasy scenario where a VW salesperson didn't have to sway a hybrid customer to a TDI to earn a sale?technology is among the cleanest of fuel choices on the market today. So what does VW say? Yes enthusiasts, you are correct.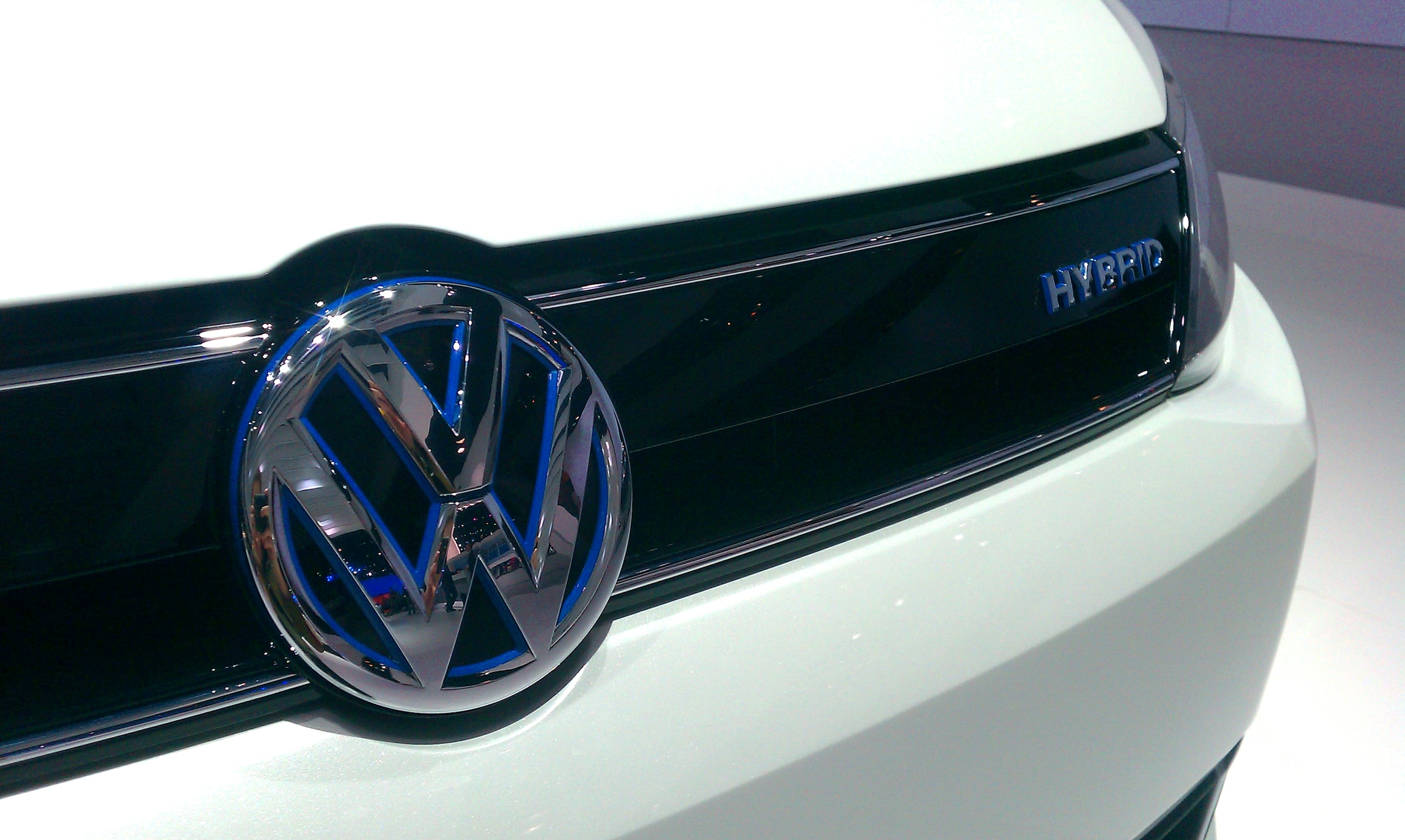 Well, that day is soon coming. The Jetta hybrid represents not just VW's hat being tossed into the hybrid ring, but an evolution of what that ring is. Volkswagen has never been a follower and their second entry into this market (the 380hp supercharged Touareg Hybrid was the first for VW and first supercharged hybrid in history) is no exception. With the Jetta Hybrid, Volkswagen opted to produce a performance machine with incredible fuel economy. A high-output, direct injected, turbocharged mill is mated to an electric motor and battery to create approximately 170 combined horsepower and like nearly all VW models gobs of torque is available across the RPM. This hybrid will have fuel economy closer to the bicycle that I rode in on than the sports car I used to own - luckily though, based on the specs I'm seeing it'll drive like the latter. VW isn't content with economy at the expense of the driver's experience. Thankfully they decided that giving the consumer options will add up to greater success. TDI? Hybrid? Yes please!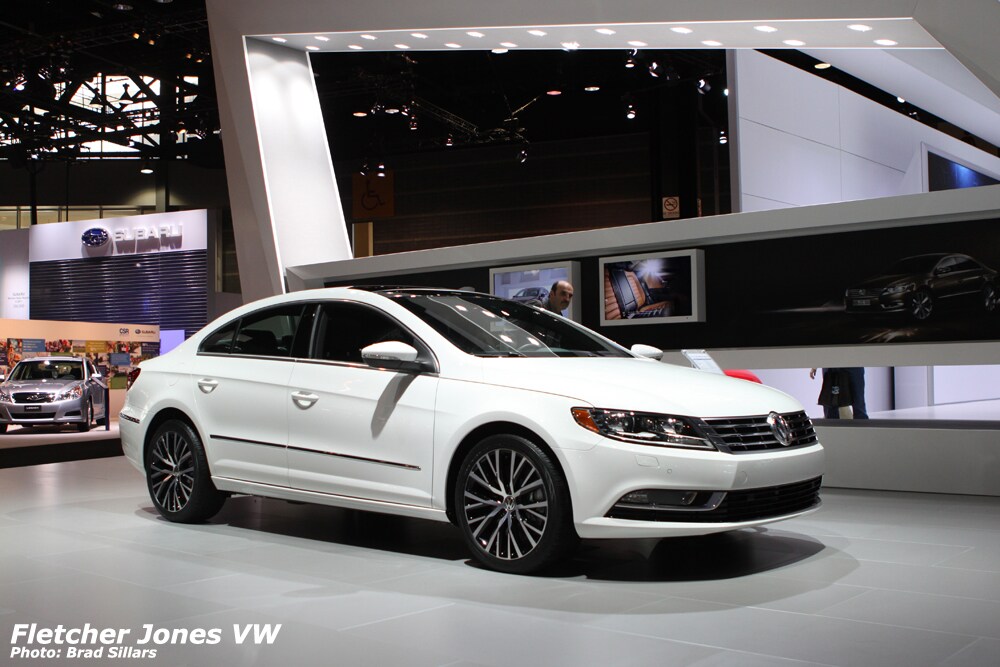 On to the next. Let's talk 2013 CC. Or as it's known in Europe the Passat CC. Or the Passat Comfort Coupe. No matter what you call it it's a slick executive's car that goes head to head with BMW and Mercedes. For 2013 we get an updated front fascia and the back end. The revised look more closely resembles the current Volkswagen design language than the previous CC models, but it still holds an independent mystique that challenges the styling of even the luxury brands I just mentioned. Oh, and one more thing: the 2013 model will get three rear seats as opposed to the two rear buckets. The car is still mainly a four-seater, but in a pinch a fifth passenger will be able to tag along. There will be detractors who love the outgoing 4 seat coupe design and the 2009-2012 might even end up as a modern collectors' item (it's one of the only cars of its kind,) but ultimately I think the practicality of the 5th seat will bring in more sales.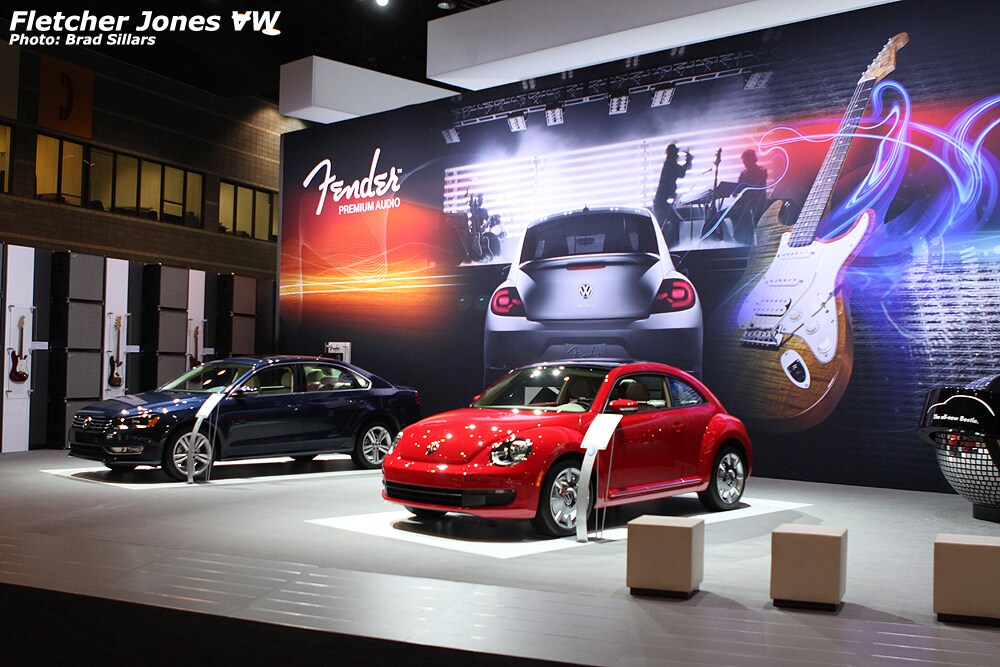 I'll mention one last thing before I get to the star of the show. The Fender Premium Sound System. I'm not going to lie. When I first read the press release, frankly I thought it was going to be a joke. Nothing against Fender, but in all honesty I thought the whole thing was a publicity stunt. I was WRONG! This sound system ROCKS! You can experience it for yourself at the auto show inside a disco ball! A disco ball? Yes, a disco ball. Or, you can also just come to Fletcher Jones VW for a test drive to see how it works on the road J Make sure to check it out - the Fender Premium Audio sounds amazing.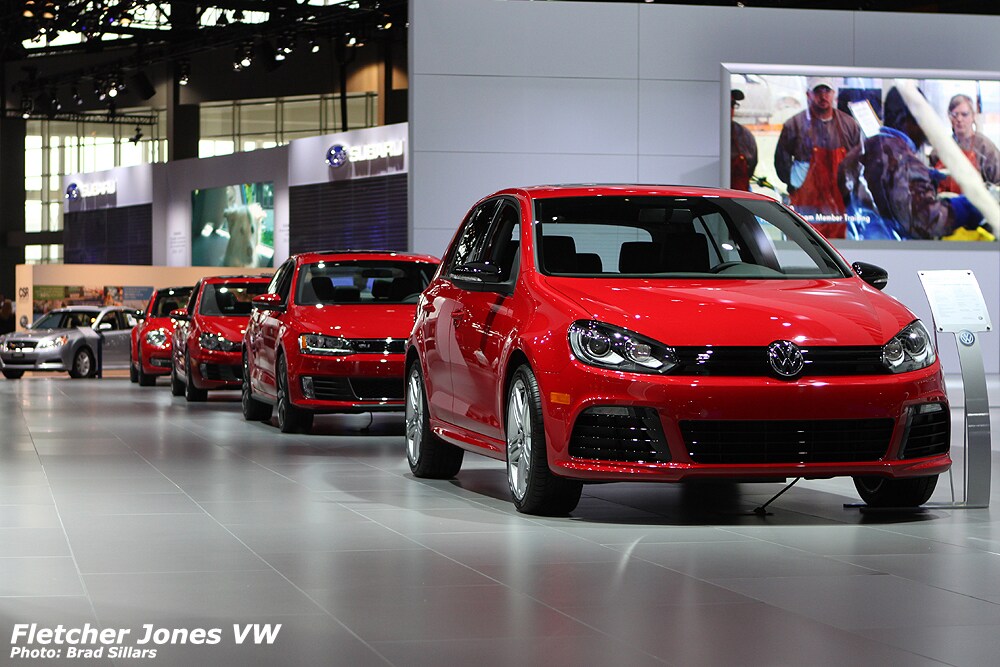 And now for the show-stopper - although you might not know it to look at it there's a wolf in sheep's clothing now available in limited numbs from Volkswagen's R Performance Division. At the front of a line of red cars you'll find the Golf R. This car is an all wheel drive, turbocharged-terror. This hot-hatch is distinguished from its Golf and GTI brethren by subtle bodywork and low-key "R" badges, but this is no boy racer and there's very little indication that a 256hp beast lives under the hood. This is a car that will probably never sit in a showroom. Available in exceptionally limited numbers, this might prove to be an order-only model. So, unless you know someone who bought one, the auto-show might be the only chance you have to sit behind the driver's seat of this VW sleeper. (I should note that Fletcher Jones does have one allocation for a Golf R not claimed as of today, February 13th. If anyone's interested please give me a call at 312-628-3906.)
There you have it. Highlights from the Volkswagen display at the 2012 Chicago Auto Show. We might actually have a few extra tickets if any of our loyal customers are interested. Drop me a line if you'd like to go.
The end.
-Brandon 'Finn' Dunne